On a lovely autumn afternoon in New York a group of enthusiastic music lovers gathered in the breathtakingly beautiful sanctuary in the church of Our Lady of Good Counsel on the upper East Side of Manhattan, a shrine that seems as dedicated to art as religion. They had come to hear the unique musical offerings of Carlos Del Pino, the great Afro- Cuban virtuoso of the double bass violin, along with his fellow musicians who were presented in concert by the Cuban Cultural Center. The quiet in the church was first broken by the voice of Mr. Del Pino, who informed us: "Throughout the history of Cuban Music it has been influenced by various musical sources. The Cuban Bass did not escape these influences." Then he proceeded to thank his major mentors and influences; beginning with his father, a great bassist before him, who first introduced him to the instrument. He also gave props to the great Afro-American bassist and professor of music, Ron Carter, who was present in the audience.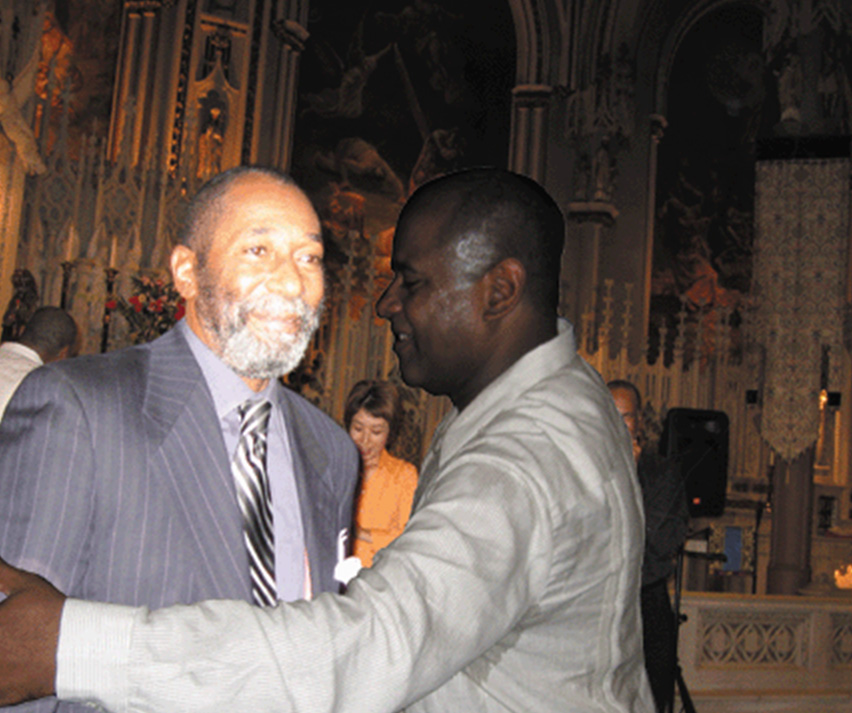 Carlos del Pino and Ron Carter: Two Giants Embrace
From the opening chorus of Caprice #8 for Bass, a composition by Edourd Nanny, which featured solos by Carlos and pianist Chiemi Nakai, the diverse influences could be heard in the eclectic nature of the music. As it is Carlos' stated intention to demonstrate that the double bass is capable of the same level of technical virtuosity, lyrical musicality, and spiritual depth as the lead violin, from the outset the contra bass was right out front.

Although the first composition was rather abstract in its free-flowing irregular rhythms and dissonant harmonies, other tunes on the program showed much more of the typica Afro-Cuban influence flowing from the Son tradition. But Carlos's virtuosity was in no way diminished. On Suite for violoncello, which was composed by Johann Sebastian Bach and presents a different kind of technical challenge, Carlos's performance was breathtaking as he played all over the instrument, combining a blinding velocity and deep musicality in a way that I have never heard it performed before. And I have been listening with a tutored ear to great performances by bassists for half a century.

Mr. Del Pino has been as careful with his selection of musicians as he has been in his choice of music for this spectacular program. The pianist Cheimi Nakai' was simply fabulous, moving effortlessly from classical compositions to jazz changes to marvelous Montunos that would fire up any Mambo band. The violinist David Eure is also a virtuoso who can speak in several musical languages and, like Carlos, never allows his technical prowess to get in the way of his musicality. This was made indelibly clear on the hauntingly beautiful Topacio es Puro Corazon, composed by the Afro-American master bassist Stanley Clarke. The Conga drummer, Emmanuel Bizeau, a Parisian who fell in love with Afro-Cuban music and traveled to the Island to study with some of Cuba's great masters of the drum, can play dead on the clave or paint abstract portraits free of the rhythmic constraints of clave. Then there was Manolo Mairena, an El Grand Sonoro who can conjure the traditional feeling of typica dance music even when singing over non-traditional rhythms. During the course of the concert, we were treated to a musical palette of many colors.

The tutored ear can distinguish everything in this music from the classical configurations of Bach to modernist colors characteristic of Stravinsky and Ellington, to Charlie Parker and Weather Report. To my surprise the band made full use of electronic musical instruments - especially the keyboards, played marvelously by pianist Chiemi Nakai who reminds me of the great Joe Zawinul in her approach to the instrument - which has greatly expanded the range and possibilities of musical invention. Before the concert began the great Afro-American bassist Bob Cunningham expressed some disappointment that Carlos would be playing an electrified bass rather than the acoustic double bass violin as it emerged from the classical European orchestra and on which the art of the Pizzicato, which is an ornament in European music, was developed into a virtuoso art by black jazz men in the US. And I must admit that I shared his disappointment. But that was before I heard Carlos actually play his electrified bass, which he made sing as beautifully as the acoustic bass - a marvelous feat in itself.

Then came a thrilling duet between Carlos and David Eure playing a passage from Mozart's Eine Kliene Nacht. However, this proved to be a prelude to Chan Chan, a cha cha composed by the great Compay Segundo of the Buena Vista Social Club Orchestra, which featured yet another bravura performance from Carlos on the bass. The evening was a tour de force that served to reinforce something that has been apparent to lovers of Afro-Cuban music since the 1940's. There are no greater musicians in the world than are to be found in Cuba. Carlos Del Pino is the latest in a long line of marvelous virtuosos to emerge from that musically enchanted Island; the pearl of the Caribbean indeed!

Thus, while he is peerless on his instrument and his musical ideas are as innovative as his playing, Carlos did not just emerge from out of thin air like the Goddess Athena from the forehead of Zeus. He is the descendent of the great Afro-Cuban innovator Israel "Cachao" Lopez, as well as a peer of such contemporary Afro-Cuban Masters as pianist "Chucho" Valdez, trumpeter Autro Sandoval, and saxophonist/clarinetist Paquito de Rivera, who was also present in the audience. And like Chucho, whose father Bebo Valdez was a great pianist/composer; Carlos' first teacher was his father. The pervasiveness of master/student relationships between great musicians and their musical fathers is not fully appreciated. However, it is a relationship that has been critical in the musical development of Wynton and Branford Marsalis, Kent and Marlon Jordan, and Walter Blanding to name of few of the contemporary musical luminaries whose careers followed this path.

Even in a city that overflows with great musicians, and musical performances average about 50,000 a year, this performance stands out as exceptional by any standard. After having played things unheard of before on the bass, ranging widely through the western musical tradition, classical and vernacular, Carlos then performed a marvelous solo on the bass where he sang the lines as he played them ala Slam Stewart, although I found his rendition reminiscent of the great trumpeter Clarke Terry's "Mumbles." The high levels of creativity and stellar performances displayed by the musicians on this autumn evening in New York was not lost on the multi-racial crowd, who responded with several standing ovations, the last of considerable duration, and only grudgingly allowed the band to leave the stand as they clamored for more. Virtuoso bassist Bob Cunningham, who sat right up front where he had a bird's eye view, summed up Carlo's performance in one word: "Mesmerizing!" And the great Ron Carter rushed to embrace Carlos in a warm gesture of approval, as he whispered accolades in his ear. Bravo Carlos! Ole!!